Noise barriers are also called sound barriers due to its great noise absorption property.
Structure: Steel structure with aluminum panels, pc sheets and accessories.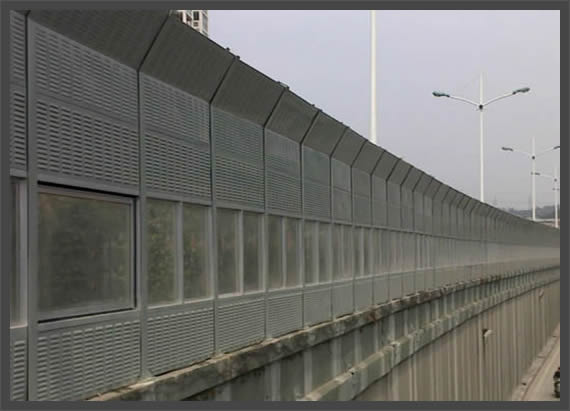 Sound barrier can be classified:
Traffic noise barriers,
Noise reduction equipment noise barriers,
Industrial plant boundary noise barriers.

Traffic noise barriers uses:
Acoustic noise reduction, control the impact of traffic noise on nearby urban areas, it can also be used acoustic noise factories and other noise sources.
A wide range of applications: highway, elevated complex roads, urban light rail subway and other transportation municipal facilities.

Sound barrier according to material classification, can be divided into the following categories:
Metal sound barrier (metal blinds, metal mesh hole)
Concrete sound barrier (lightweight concrete, high strength concrete).
PC sheet sound barrier, fiberglass sound barriers.

According to different uses can be divided into several categories:
Railway noise barrier,
Highway sound barriers,
City view sound barrier,
Neighborhood noise reduction barriers.

Installation and use of sound barrier, can greatly improve the visual and noise reduction.

We offer:
Pls click Above for details.