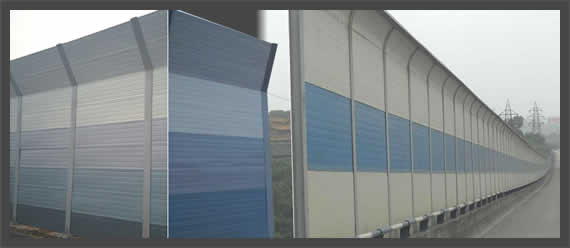 Sandwiched Acoustic Panels of railway noise barrier

Noise barrier panels are installed along railway lines to reduce the noise pollution generated by trains passages through residential areas. Erecting of noise control barrier is essential part in construction projects for rail contractors.

We supply railway acoustic control panel barriers with doors in the form of ready made panels of varying size, thickness and finish and customized sizes and materials.
Structures:
Highway and railway road acoustic barriers are made of foam filled pc or metal perforated panels structures wall with sound absorbing door. Application:
Sound Acoustical panels and screens can effectively reduce the level of railway and highway traffic noises.
Project:
Aluminum noise barrier panels -one side absorbing panels, for railroad.
Technical data:
Sound absorption: EN 1793-1 DLα = 12 dB (A4) EN 16272-1 DLα = 13 dB
Sound insulation: EN 1793-2 DLR = 25 dB (B3) EN 16272-2 (7) DLR = 30 dB ISO 717-1 Rw(C;Ctr) = 31(-2;-6) dB
Fulfilled guidelines: DB 804.5501; HPQ – DBS 918 007; CE marking acc. EN 14388; execution class acc. EN 1090: EXC 3
Sound absorption door:
Single-leaf sound absorption door 1,5 x 2,3 m.
Made of aluminum frame
One side filled perforated sheet, on the other side, imperforated sheet metal.
Fillings: Between the sheet metal mineral wool is placed.
The door supplied with Self-closing mechanism and I panic knob.

Features:
Light weight, High Intensity ,Low cost;
Labor efficiency, Easy installation;
Fireproof ,sound insulation,heat insulation.

Specification:
Panel Width: 500m,800m,1000mm.
Panel Length: 2000mm,2500mm,3000mm,4000mm.
Panel Thickness: 80mm,100mm,120mm.
Sheet thickness: 0.5-1.2mm.
Panel type: Shutter or perforated.
Note: customized request is available.
Thickness: 4mm, 6mm, 8mm, 10mm, 12mm, 14mm, 16mm, 18mm, 20mm.
Width: 1, 220mm, 2, 100mm
Weight (Kg/M2): 0.8, 1.2, 1.4, 1.6, 1.9, 2.2, 2.4, 2.6, 3.0, 3.3.
Colors: Clear, lake blue, green, blue, opal, brown, silvery gray, red.
(Other color can be ordered according to you request.