Highway noise barriers help in absorbing the noise generating from vehicles on a heavy vehicular traffic area. Thus noise barriers have proven to be effective in absorbing noise and providing an excellent solution to susidize noise for highway, residential areas near the busy roads, and also for schools, hospitals.

Highway noise barrier sheet has the following advantages:
·Light transmission
The light transmission of the sheet is quite good which is up to 85%.
·Weather resistance
The weather resistant treatment of anti UV on the surface of the sheet prevents the resin from turning yellow by causing Ultraviolet ray.
· PC  celotex sheet: The UV agent has chemical bond to change ultraviolet ray into visible light ,which has a stable effect on the photsynthesis of plants.
·Fire retardant
  Its impact strength is 10 times of the ordinary ray glass, 3-5 times of the ordinary corrugated roofing sheet and 2times of toughened glass .It is hardly broken.
·Temperature property
In the temperature from -40C to 120C,       the product will not deform.
·Light weight
It is light in weight ,easy to handle and drill,convenient for construction and procession .When cutting for installation ,it is not easy to be broken.
The light transmission of the sheet is quite good which is up to 85%.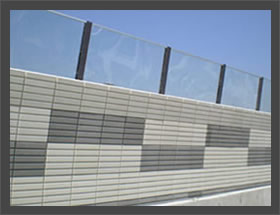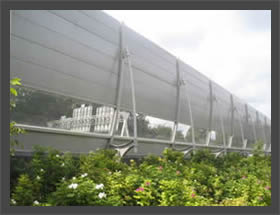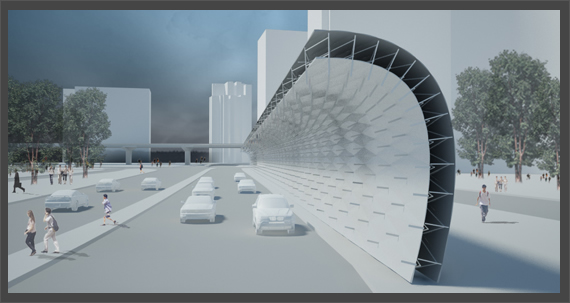 Highway Metal Soundproof Noise Barrier
metal panel
1. material: aluminum, steel
2. height: 0.5m, 1m or as customer's requirement.
3. length: 2.0m, 2.5m, 3.0m, 4.0m
4. thickness: 80mm, 100mm
5. type: shutter or perforated

two types: shutter or perforated
post size
100*100*6*8mm
125*125*6.5*9mm
150*150*7*10mm
175*175*7.5*11mm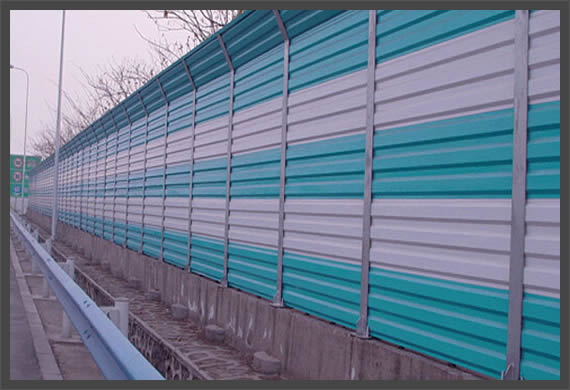 Highway Anti-climb safety noise barrier walls
Specification of sound barrier plastic panel:
Material: PC Acrylic board,Plastic panle, steel sheet or aluminium sheet
Inner material: Glass wool
Sheets thickness: 0.8-1mm,but we can also design as our clients request.
Panel size: Width-500mm,Length2000mm is standard size ,the panel can be longer ,but no
more than 4meters.