Aluminium noise barrier is designed to use in the acoustic environment of highway, expressway, railway or roadside to reduce the traffic noise. The metal aluminum structure built in with fabrics or fibers offers excellent noise absorption, fire retardant property and wind loading property. We offer reliable aluminium perforated sheet solution for Architectural and Highway, Expressway and City Constructional Noise Control Projects. The noise barrier panels can be installed along the guardrails to form a dual system reducing wind and noise at the same time ensuring highway traffic safety.

Aluminum Highway Noise Barrier is composed of alloy frame, perforated plate, built-in absorbent cotton, H post and flange plate.. Suitable for sound insulation and noise reduction for High-speed Rail, highway, municipal, rail transportation.
Sound transmission loss ≥ 30 dB;
Noise reduction coefficient ≥ 0.7;
Fire resistance class E.


Technical Information:
Noise barrier 54db
Fire retardant above 3 hours
Material: aluminum sheet.
Aluminum sheet type: Shutter type, perforated type.
Colors: Clear, lake blue, green, blue, opal, brown, silvery gray, red.
Other color can be ordered according to you request.
Transparent sheet: PC, PMMA.
Metal Perforated Aluminum Sheet:
Panel height: 0.5m ,1.0m.
Panel length: 2.0m, 2.5m, 3.0m, 4.0m.
Sheet thickness: 80mm,100mm,120mm.
Sound Barrier Common Sizes:
Total height : 3.0m as standard.
Length: 2.0m ,2.5m, 3.0m, 4.0m.
RW: ≥30dB.
NRC: ≥0.84
Aluminium profile requirement
Item

Original Product

Alternatives

Shape

Irregular

Round, Square, Triangle, Rectangle etc...and Customized shapes are welcome.

Alloy

6061 alloy

6063,6061 Alloy etc.

Temper

T6

T3, T4, T5, T6, T8 can be discussed.

Finishing

Powder coating

(Akzo Nobel application)

Mill finish, Anodized, Electrophoresis, Powder coating, Panting,Sliver matt, Sand blasting, PVDF, Silkscreening etc.
Material 
Width
Length
Thickness
Acrylic board: PE  PMMA resin Frame material : Aluminum Alloy
100mm - 1500mm
2000 - 2500mm
8mm - 10mm
Frame: 70mm -100mm
 Metal sheet: aluminiun steet or galvanized steel sheet Inner Material:Glass wool 
500mm - 1000mm 
2000mm - 4000mm  
70mm -100mm

Aluminum panel thickness: 80mm, 100mm,120mm, 150mm etc
Sound barrier plate thickness: 1-2mm
H-post: 100x100x6x8mm, 125x125x6.5x9mm, 150x150x7x10mm, 175x175x7.5x11mm.
Sound barrier flange plate: 250x250x10, 300x300x10, 350x350x10, 400x400x10mm etc.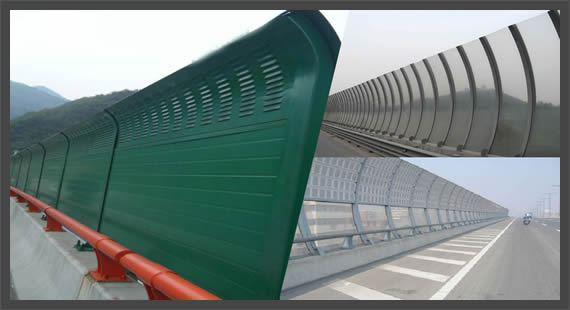 Our advantages include: 
Reliable quality (ISO9001:2008 & TS16949:2002 certified). 
Competitive prices with short lead-time for both tooling and parts, because we do everything in-house.
Effective and strong technical support and excellent sales services. 
Sufficient production capacity (only 65% occupied). 
Efficient communication (48-hour quote lead time). 
Compliant with RoHS Test.