Metal noise barrier wall can function as both acoustic panels and general border fencing as it forms a kind of solid barricade though not frightening enough as strong metal mesh fences. For areas needs a higher security, anti climbing metal mesh fences are used.
Different between anticlimb noise barrier and solid soundproof barrier is:
Solid soundproof barrier refers to the noise acoustic wall only while Anti climbing noise barrier fence has common sound barrier wall and anti climbing wire mesh fence, chain link or weld type.
Noise Barrier Wall Panels for Fencing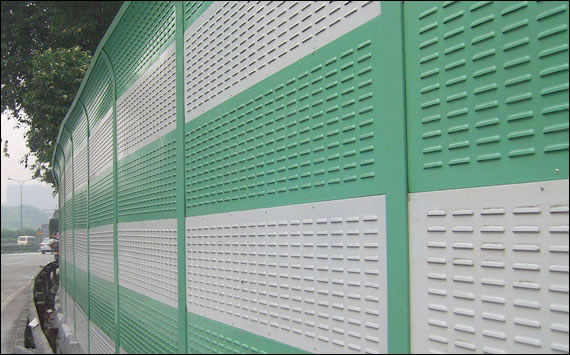 Anti climb safety noise barrier wall for community fencing in suburban area near the highway: 0.5 x 3 m panels with the vertical profiles
Noise Barrier Panel Wall Fencing with Chain Link Fence - A Perimeter Fencing System
We supply safety noise barrier wall and fencing for many buildings and municipal projects such as waste water treatment plants. These sites need both sound control and safety protection.
The barrier wall can be specially designed to absorb sound generated within the treatment plant area and the mesh fences can be installed along the rest of the borders providing anti climbing security barrier.
Project sample: ( We provide various solutions for your specific construction projects)
Perimeter fencing and noise barrier boundary walls along the boundaries of the treatment plant.

3m high noise barrier wall fencing, along the perimeters of the wastewater treatment plant to keep it from causing sound pollution to the neighbouring building:
Noise barrier wall panels are metallic, with tung and groove design for stacking.
The front plate facing the source of the sound is a perforated aluminium alloy A5052P panel to JIS H 4000 or equal.
The back plate facing the public road is hot dipped galvanized steel plate SPG 3S to JIS G 3302 or equal.
The sound absorbing material in between the two plates is glass wool acoustical board No.232K to JIS A 6301 or equal providing a sound transmission loss of 32 or better.
All external surfaces shall be coated with fluorine resin paint to a colour selected.
The panels are bolted to galvanized steel H-sections at 2 m centres supported on reinforced concrete foundation pads designed to prevent twisting and overturning under a wind load of 390 kg/m2.
Noise barrier wall panels:
The front plate material: Perforated aluminium alloy A5052P.
The back plate material: Hot dipped galvanized steel plate SPG 3S to JIS G 3302
H sections: Galvanized steel
Chain Link Fence for Perimeter Fencing and Gates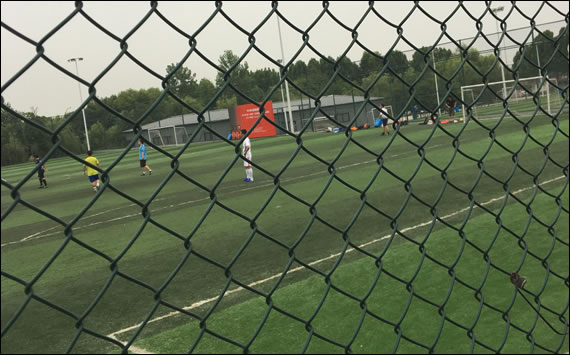 Chain link fence at a height of 1.8m is installed along the boundary lines of the remaining perimeter areas. The fence has a twisted sharp points at the end with adding security, barbed wire coils can be added along the top for higher perimeter security.
Specification:
PVC coated chain link fence, galvanised pvc coated
Security fence dark green color PVC coated
Chain link fence, fencing posts and barbed wire and arm angles, galvanized and pvc coated.
Chain Link Mesh for Fencing Panels and Gates:
Opening : 50mm
Hole: Diamond
Wire diameter : 3.50mm after coated
Mesh fence top: Knuckled / twisted
Length of the mesh roll : 15m
Width of the mesh roll: 2m
Fence posts: galvanized and pvc covered
Diameter : 2.5 inches
Wall thickness : 3 mm
Steel angle of 45 degrees with slots for Barbed wire.
PVC coated Barbed wire : thickness 3 mm after coated
Barbed Wire, double strand double twisted, PVC coated galvanized finishes.