We are suppliers of all kind of metal noise barriers for safety and noise control in Road development and construction projects in many countries, including Sri Lanka, India.

Road noise barriers specifications:
Basic information of the barrier:
Barrier type:
Absorptive barrier
Outer cover:
Material Al or Zn / Al
Outer cover gauge:
0.6mm min
Front face:
Perforated 15% min
Inner material:
Any sound absorption material like mineral wool
Surface density:
20kgm to 30kgm
Barrier properties:
Sound transmission class / STC: 35 or above
Noise reduction coefficient / NRC: 0.35 or above
Metallic Noise Barrier for Parapet Wall
Model: Noise barrier panel 94mm thick, installed outside of safety crash barrier
Metallic Noise Barrier Panels for Road
Model: 100mm thick noise barrier panel outside of road crash barrier
Foundation detail of Noise Barrier
Base Plate: 250x250x16mm thick
Foundation bolts: 16mm diameter
Highway / Road Noise Barrier Projects:


Aluminum highway noise barriers for road traffic, installed with safety guard rail, compliant with MASH barrier testing category TL-5 for vehicular collisions.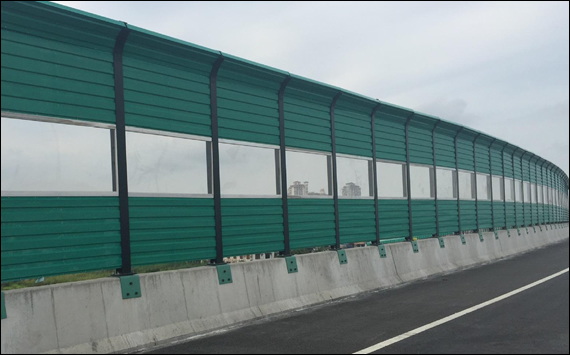 Metallic noise barriers, shell ( min. 0.5mm thickness) : Aluminum Alloy or Galvanized Steel, coated in colors, filled with High Density Mineral Wool.