Noise Barrier of Acoustic Panels and Posts, BNBC-2020 Quality
Technical Specifications
The performing panel used in the work is supplied with load test on pile in Conformance with BNBC-2020 or equivalent standard.
The vertical posts(H shape bar 125*125*9*6) and attached plates at bottom are of structural steel (MS) conforming to ASTM A570 Grade 50 or equivalent. The anchor bolts shall conform to ASTM A449 or equivalent.
The requirements for the noise absorption plate or panel are as follows:
The noise absorption capacity as defined by Noise Reduction Coefficient(NRC) shall be at least 0.6.
The noise absorption plates or panel includeing its attachment system are capable of withstanding wind pressure corresponding to 200 km/h basic wind speed in accordance with BNBC 2006.
Material of the noise absorption panels or plates are made of lightweight material such that the total weight of the sound barrier system including the weight of the vertical 125*125*6*9 posts and attachments does not exceed 105kg/m.
The system of noise absorption panels to the vertical posts is designed to meets the requirements.
Acoustic Panels- Panels Height : 2.53m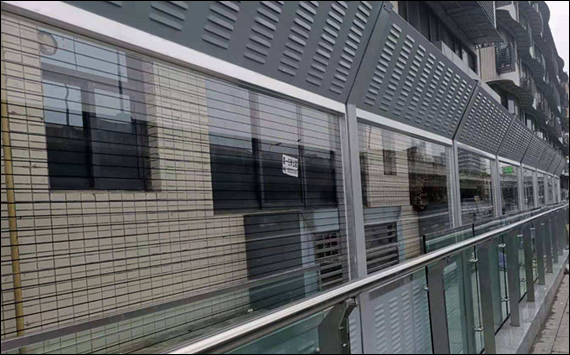 Installing of Acoustic Fencing Sound Barrier Wall:
Acoustic panel measuring 500x3000x80 mm
80mm acoustic panel
Internal material rock wool min 50mm thick density 55kg / m3
Inside face (towards emitting source) perforated sheet 1 mm thick perforation density greater than 30% sheets thickeess 1mm
Profiled outer sheet
Technical sheet with acoustic attenuation and mechanical resistance is provided in technical documents.
Details of the noise absorption plate as shown on the drawings:
Noise Barrier Technical Drawing
Arrangement at expansion joint of bridge deck is provided in design.
Also arrangement for fixing electrical pole is considered in design of noise barriers.
Noise barrier is installed in conformance with AASHTO LRFD BDS 2012 or equivalent standard.
Noise barrier panel height: 2.53 for Elevated Road
Detail Structure of Noise Absorption Plate:
Noise protection panels
Noise absorber material
Galvanized steel plate
For maximum noise protection effectiveness, noise barriers shall be installed so there is no gap between and below the panels, support frames, expressway guardrail barriers and appurtenances such as light poles and expansion joints.