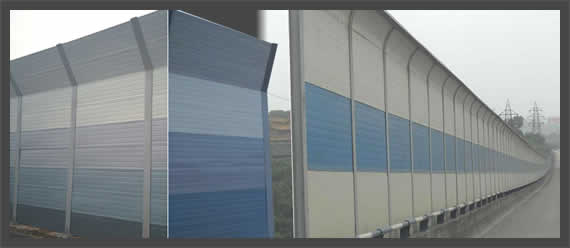 Acoustical panels can effectively reduce the level of railway and highway traffic noises.

Highway and railway road acoustic barriers are made of foam filled pc or metal perforated panels structures wall.

Features:
Light weight, High Intensity ,Low cost;
Labor efficiency, Easy installation;
Fireproof ,sound insulation,heat insulation.

Specification:
Panel Width: 500m,800m,1000mm.
Panel Length: 2000mm,2500mm,3000mm,4000mm.
Panel Thickness: 80mm,100mm,120mm.
Sheet thickness: 0.5-1.2mm.
Panel type: Shutter or perforated.
Note: customized request is available.
Thickness: 4mm, 6mm, 8mm, 10mm, 12mm, 14mm, 16mm, 18mm, 20mm.
Width: 1, 220mm, 2, 100mm
Weight (Kg/M2): 0.8, 1.2, 1.4, 1.6, 1.9, 2.2, 2.4, 2.6, 3.0, 3.3.
Colors: Clear, lake blue, green, blue, opal, brown, silvery gray, red.
(Other color can be ordered according to you request.